Breakfast Club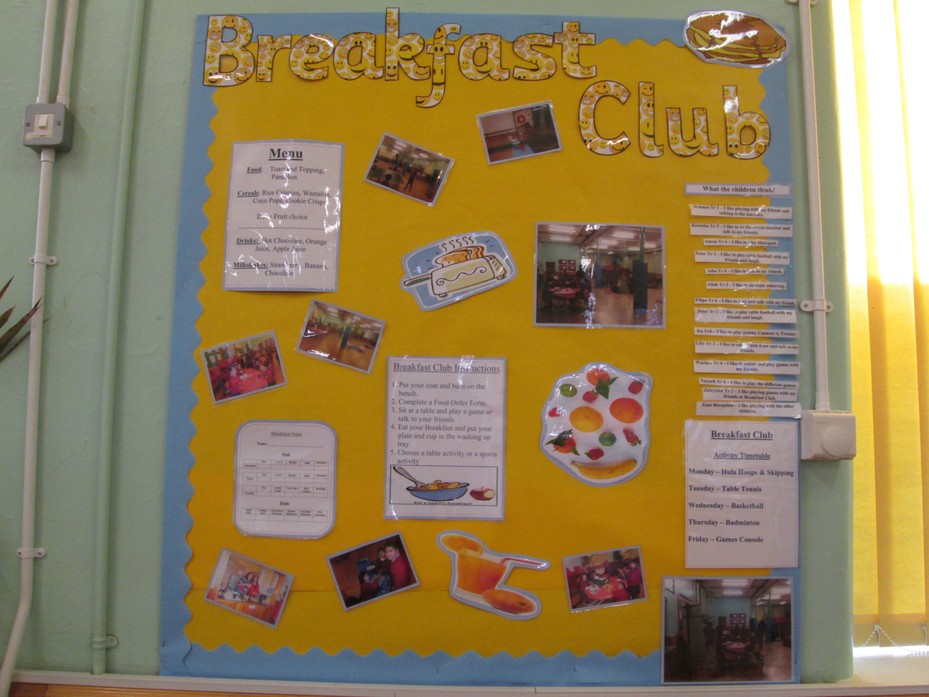 The Breakfast Club starts at 8.00 a.m. daily for all pupils in Reception through to Year 6.
Parents/Carers who wish their child/children to attend Breakfast Club must enter school using the bottom side entrance door, this will give the children immediate access to the hall where the Club will now be held. The door will be opened at 8.00 a.m. sharp and then closed at 8.30 a.m.
The menu will offer a variety of breakfast food and drinks this year including:
Cereals - Rice Crispies, Cookie Crisps, Coco Pops, Weetabix
Toast with topping - Butter, Jam, Marmalade
Pancakes with topping - Butter, Jam, Marmalade
Drinks - Orange Juice, Apple Juice, Milkshakes, Hot Chocolate
Various Fruits to try
There is a nominal daily cost of 30 p and we would like to encourage more of our children to attend breakfast club as it is a good opportunity for the children to relax, meet up with friends and have an excellent start to the school day. Children will have the opportunity to play games and take part in creative and physical activities.
The sessions will be supervised daily by Mrs Farmer, Mrs Varley and Mr Lee and other members of staff when appropriate.
Kindest regards,
Mrs Paula Farmer
Learning Mentor